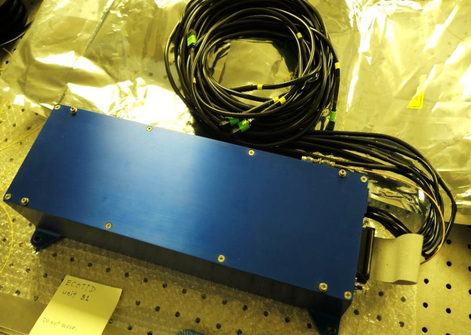 TECHNOLOGY APPLICATIONS - Satellite & 5G Communications
Optical True Time Delay Device for Steering UWB Antenna Arrays -
Advantages
Best Size Weight and Power of any True Time Delay

Based on a demonstrated U.S. defense application developed by the Ohio State University, Northrop Grumman, and the U.S. DOD. Previous investments of $60MM (passed thermal cycling, shock and vibration tests meeting or exceeding military specifications).

A single unit can support 100's of antenna elements and multiple beams

No beam squint, low loss

Supports ultra wide band antennas
Based on digital micro-electrical-mechanical mirror array technology (MEMS) and free-space optics, developed by Dr. Betty Lise Anderson PhD, licensed from the Ohio State University, the Buckeye Photonics Optical True Time Delay (OTTD) is extremely compact and low-weight with proven ruggedness for a broad range of commercial applications in cellular and satellite communications.
Phased array antennas (PAA) are replacing traditional physically steered antennas due to recent developments in commercial broadband satellite communications. As demand for stationary and mobile mounted PAA is increasing, antenna makers are struggling to reduce cost and complexity, while increasing bandwidth. DBF promises large (100s of elements) multi-beam arrays, but this promise has been limited by inaccurate beam steering over wide bandwidths and by distortion.
With no tunable lasers, no dispersive elements, and no moving parts required, PAA makers can apply the Buckeye Photonics OTTD technology to eliminate beam squint and steer communication channels with the accuracy required for broadband speeds. For largescale PAA used in both satellite broadband and 5G satellite uplinks, BP's OTTD removes complexity while increasing beam steering accuracy.
Complementing Technology Offering That Will Revolutionize Data Network Efficiencies
All-Optical Switching Engine (OSE)
Energy savings of greater than 90% over conventional switching by eliminating OEO conversion

Increased switch data throughput by 40x or more

Reconfigurable, non-blocking switching among 32 inputs and outputs in compact volume

NO foreseeable scalability limit as there is with conventional switching
For more information please contact:
Chris Sanese, CEO csanese@buckeyephotonics.com